MR-1000 Forza
Commercial Steam Cleaner
90 PSI
Heavy Duty 'Dry' Vapor Commercial Steam Cleaner
A Powerful 120 Volt Steam, 1700 Watt Cleaning Unit! Clean old tile and grout, greasy kitchens,
automotive detailing work, dry carwashing and more, kill bed bugs and more.

A great vapor steam cleaning system!



In Italian, Forza stands for 'strength & power.' Performance, endurance, and total value - are the crown features of the MR-1000 Forza Commercial Grade Steam Cleaning System. Over two years of intensive development and testing were dedicated to create its robust design, resulting in one of the most innovative steam cleaners the industry has ever seen.

All over the world, MR-1000 Forza has greatly improved commercial cleaning for hundreds of business owners with star-quality restaurants and kitchens, auto shops and detailing, hospitals, residential care homes, and more. Experts in pest control have also found incredible value in the MR-1000 chemical-free treatment against bed bugs, dust mites, mold, and other allergens.

The Forza infuses custom Italian manufactured CEME® brand internal components with commercial grade powder coated steel construction, continuous steam flow, computer controlled operation, and the largest
selection of included accessories on the market. A specially designed extra large stainless steel boiler with 1700-Watt heater and 90 psi steam output enhance the power and execution of this world-class product.
SOME USES:
* Home Use
(has hundreds of uses around the home. allergy and asthma friendly)

*
Antiques & Ceramics
(blasts off grime and restores old items)
*
Grout Cleaning Services
(Perfect for grout! Make big money restoring tile & grout)
*
Janitorial Services
(makes cleaning a pleasure. Powerful no chemical sales pitch)
*
Cleaning Services
(Add to your list of services and increase profits!)
*
Schools
(powerful cleaning solution to chemical free school policies)
*
Hospitals
(chemical free cleaning & surface disinfecting of rails, beds, bathrooms won't harm patients)
*
Restaurants
(unbelievable cleaning power cleans floors, degreases pots, pans, cleans hoods & more)
*
Hotels & Motels
(clean & restore bathrooms, lobbies, floors and save thousands in cleaners)
*
Auto-Shops
(clean & degrease parts, tools and much more without chemicals)
*
Auto-Detailers
(blast out hard to reach details, clean rims & more)
*
Car Dealerships
(keep the show room spotless)
*
Day Spas
(Kills germs on contact)
*
Military
(powerful cleaning for powerful needs)
*
Health Clubs
(clean showers, locker rooms)
*
Office Buildings
(clean during business hours, no harmful chemicals)
*
Pools
(cleans pool rails, decks, filters, walk ways & more)
*
Reception areas
(Clean tile & grout, give customers a good first impression)
*
Dentists offices
(clean tools, chairs and more)
*
Nursing Homes
(cleans hundreds of items without toxic fumes)
*
Clean Furniture
(kill dust mites with super hot steam vapor)
*
Disinfect Bedding
(disinfect bedding without stripping the bed)
*
Electronics
(blast clean switches, circuits and more)
*
Cleans Freezers
(hot vapor melts & cleans grim so you don't have to empty & thaw freezer)
*
No Chemicals Allowed
(cleans in places chemicals are not permitted)
*
Bars & Pubs
(clean dried on spilled drinks, food. Eliminate odors and germs)
*
Veterinarians
(safely clean & disinfect cages, exam tables, no harmful fumes for animals)

The uses are unlimited. You will find yourself cleaning everything in your home or office. Order yours today!
Steam Cleaning Is Fast, Fun & Easy!


These portable units are perfect for cleaning and disinfecting floor grout, wall grout, tile, hard wood floors, marble, ceramic, fixtures, bedding, clothes, filters, windows, counter tops, door knobs, toilets, sinks, tubs, cutting boards, cooking surfaces, linoleum, aluminum, stainless steel, acrylic, plastic, base board heater fins, decks, concrete, bricks, fireplaces, grease, stains, painted walls, kids toys, baby toys, tools, and so much more. They are great for commercial applications as well as home use. Great for use in the grout cleaning business, restaurants, hospitals, hotels, offices, auto garages, motorcycle shops (great detail tool), jewelers shops, private homes and so much more! When you want cleaning power you want one of these great professional grade machines! Not only are they powerful and have a million uses they are a pleasure to work with.

Grout cleaning is a rapidly growing industry and is a great way to make a lot of extra money with your business. If you are a home owner you save money restoring your own grout and tile let alone toilets, tubs, sinks, stoves, jewelry and so much more. You can do it yourself around the house or office! For the home owner we recommend the VC3000 or the MR-100. They are low cost, light weight, and just right for around the house. Imagine how much money you can save if you restore your old tile and grout rather then paying to have it regrouted or replaced. Contractors: Did you know that some companies specialize in just grout cleaning? It's true, that is all they do! Imagine what you can do if you combine this service with your other services. For those customers that are concerned about allergies or just don't like smelly chemicals offer them an environmentally friendly steam cleaning service! Using the power of steam you can get the job done right!

Assembly MR-1000 Commercial Steam Cleaner
Killing Bed Bugs with the MR-1000 Forza
Videos: MR-1000
Steam Cleaner In Action

MR-1000 Commercial Steam Cleaner In Use

MR-1000 Tempature Test

Specifications
MR-1000 Commercial Steam Cleaner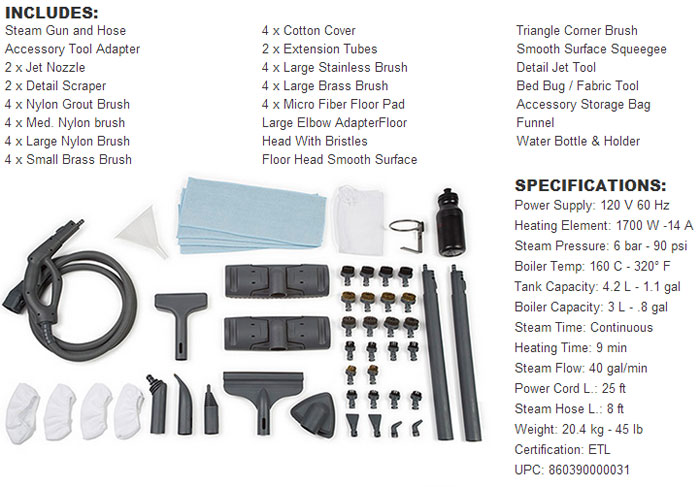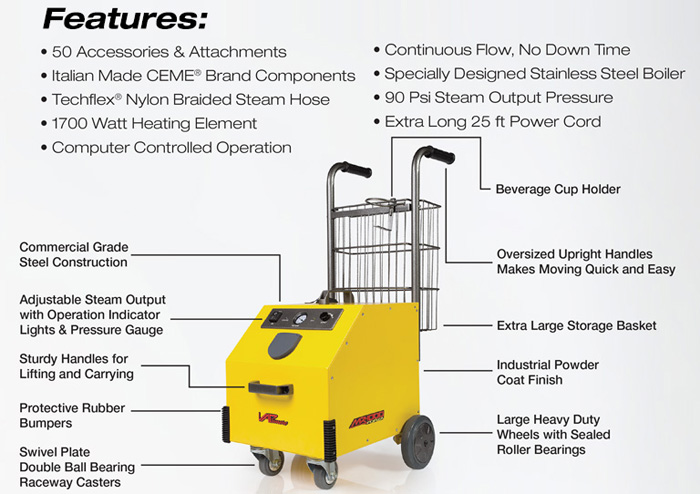 MR-1000 Forza by Vapamore
Commercial Vapor Steam Cleaner



Warranty Coverage:
1: Lifetime parts and labor on the boiler, heating element and all internal electronics.
The Vapamore MR-1000 Forza Steam Cleaning System boiler tank, heating element and all internal electronic parts are lifetime warranted to be free from defects in material and workmanship when utilized by the original purchaser only. This warranty does not cover damage due to hard water calcium or
mineral build up on internal parts including but not limited to the boiler, heating element, solenoid, pump, internal valves and fittings.

2: One (1) year parts and labor on accessories and housing.
The Vapamore MR-1000 Steam Cleaning System accessories and housing are warranted to be free from defects in material and workmanship for a period of one (1) year from the date of purchase when utilized by the original purchaser only. This does not include replacement of items due to wear including but not limited to the Floor Brush, Nylon Brush, Grout Brush, Metal Brush, Jet tip, Clothes Steamer Cotton Cover, Floor Brush Cotton / Micro Fiber Cover.

For this warranty to apply the original purchaser must return the warranty registration form (included in the original packaging or available online at vapamore.com) along with a copy of the original purchase receipt to Vapamore 7464 East Tierra Buena Ln Suite 108 - Scottsdale, AZ 85260 within 15 days after the original purchase date. Should any defect covered by the terms of this lifetime limited warranty be discovered, Vapamore will repair or replace any defective part provided the unit

is returned by the original purchaser on file with the warranty form information. The liability under this warranty is limited solely to the cost of the replacement parts or the complete unit at the discretion of Vapamore. This warranty is void if damage is resulting from accident, misuse, improper operation, unauthorized repair or alteration, tampering, substance other than clean water used in the boiler tank, hard water calcium or mineral build up, or damages accruing in transit. This warranty does not cover any shipping fees to or from our facility.

This warranty is extended to the original purchaser only and excludes all other legal and / or conventional warranties. The responsibility of Vapamore, if any is limited to the specific obligations expressly assumed by it under the terms of the lifetime limited warranty. In no event is Vapamore liable for incidental or consequential damages of any kind whatsoever.

Customer is responsible for all shipping fees to and from our facility. Carefully pack returning items for repair to avoid damage in transit. Main water tank must be empty of all water before shipping. Failure to do so will void this warranty. Be sure to include in the box all your contact information including name, phone number, e-mail address and shipping address along with a prepaid return ship tag from UPS or Fed Ex. Vapamore does not ship and will not accept items sent via USPS. Contact Vapamore at 480-951-8900 or e-mail customersupport@vapamore.com for making arrangements to return items for repair or service. Vapamore is not responsible for any shipping cost to or from our facility.